Welcome to Viva La Funny! We are a destination for all things funny and lighthearted. Our selection of funny socks is unmatched in places near (but possibly far) and our fashion offerings are super cozy and chic. You will find that our little shop is home to "the perfect gift" for that special someone who appreciates wit, a good pun and loves to laugh.
Our Story
Back in the Summer of 2016, Viva La Funny embarked on a hair-brained adventure at the Kane County Flea Market in St. Charles, IL. Initially operating from a 10x14 booth, we enthusiastically offered an array of clothing, accessories, and quirky socks. Over the years, our passion for spreading laughter and amusement has blossomed into an entire lifestyle dedicated to this pursuit.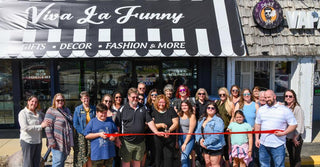 Home
After many markets and miles traveled, our little shop of fun laid down roots in Yorkville, IL., March of 2023.
Our Locations
Yorkville
145 E. Veterans Pkwy. Yorkville, IL 60560
Monday to Friday: 10 - 6PM
Saturday: 10 - 4 PM
Sunday: CLOSED
+1 (630) 318-0098
Naperville
Viva La Funny @ The Painted Tree Boutiques
240 Route 59 Naperville, IL 60540
Daily: 10 - 8 PM
+1 (630) 318-0098